Talking the Talk

Check out Joanna Kurowska's interview with Naomi Smith in the autumn of 2016 on her blog at: joanna-kurowska.com. Joanna is a poet published in the U.S., Poland, and England.

The interview was fun to do and you'll find it interesting to read.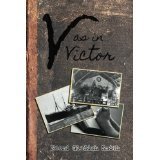 AND ALSO,


Some time ago the Glenview television channel aired an interview with Smith on their program, "Off The Shelf".
In the interview we discuss the writing life and chat about my three novels that take place in the afterlife. She also talks about the memoir of her father, V as in Victor.
You can watch the interview using the following link: